Astra in attendance -The (virtual) 12th Australian Space Forum
On the 15th of September 2021 the Adelaide convention centre hosted space students, leaders, companies, and enthusiasts, who had gathered for the 12th Australian Space Forum.  The country is still in the throes of Covid restrictions, but through a global interactive web platform and phone app that had good waiting music and soft pink accents, everything forged ahead as planned.  
Members of the Astra committee attended the Forum to round-up and connect you to the highlights, news, and contemporary discussions, relevant to the Australian space industry and to our upcoming program this summer.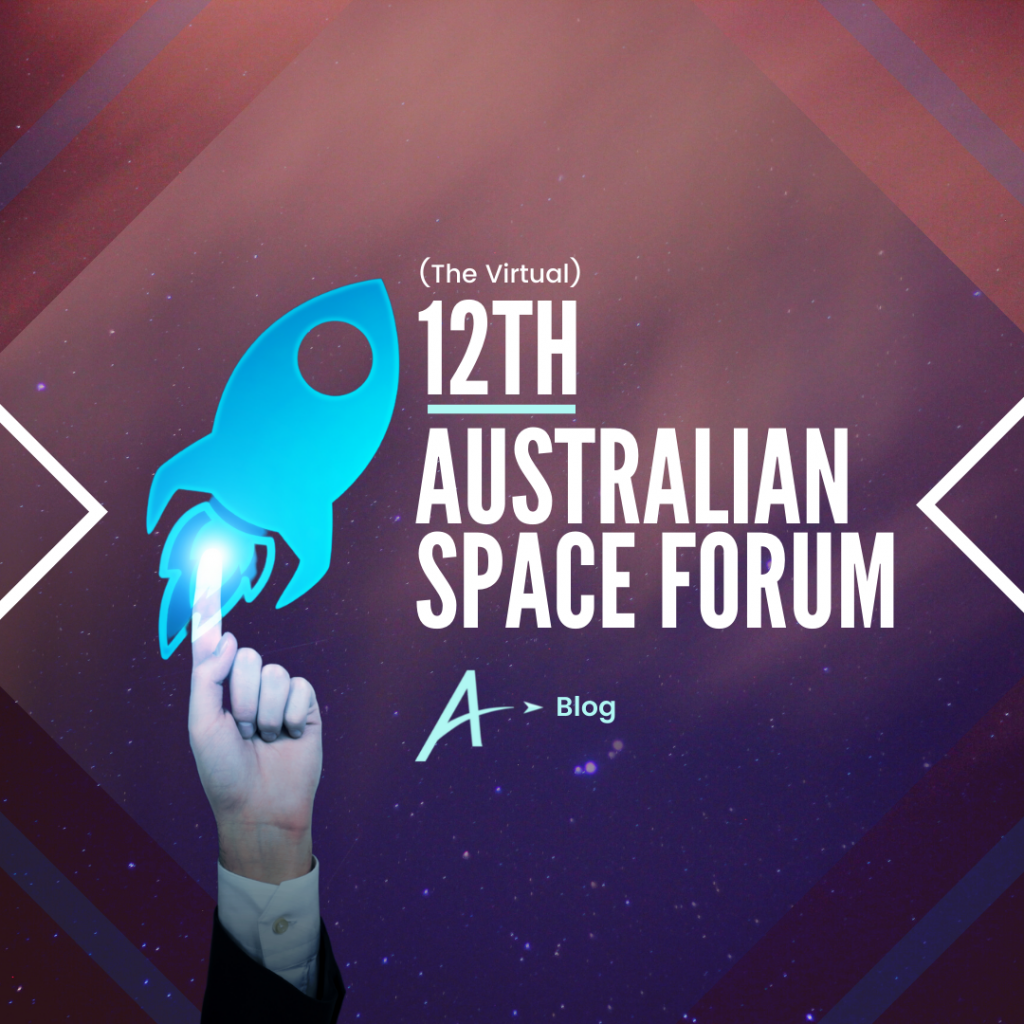 CEO of The Andy Thomas Space Foundation Nicola Sasanelli, opened with a warm "Buongiorno!" to the 700+ attendees who were present physically, virtually, and internationally.  The Premier of South Australia Steven Marshall boasted the State's ecosystem of space operations, with 14,000+ people employed, a breadth of companies, international collaborations, start-ups, research institutes, and exciting prospects for future launch capabilities. Poetically on the day of the forum, across the Gulf at Whalers way, a Southern Launch rocket was preparing to take off.
Next year, South Australia hopes to send its first state-owned, locally manufactured CubeSat into Earth's orbit. With a commitment to engaging the next generation of space leaders the naming of this satellite was put into the promising hands of Australia's primary and secondary schools. The Premier expressed an initial fear of reading entries like "Satty McSatFace", but instead received an outstanding number of inspired names with particular consideration to the enduring astronomical knowledge of Indigenous Australians. The competition winner was the Findon High School who will name the satellite Kanyini.  Kanyini is the Pitjantjatjara word meaning 'an enormous caring with no limit; it has no timeframe and is eternal' and 'responsibility and unconditional love for all creation'.
Presentations on International Trends and Partnerships.
Enrico Palermo took the podium for his second space forum since starting as the Head of the Australian Space Agency in early 2021.  He expressed his pride in our space faring nation and our potential to use space to improve the lives of Australians and solve the world's greatest challenges. Enrico emphasised the importance of international collaboration, and shared that through discussions with key partners knows that "the world wants to work with Australia.''
Col. Pam Malroy, the current Deputy Administrator for NASA, called in with that infamous logo behind her.  Pam explained that significant changes have occurred in the industry in the last decade with opportunities emerging for many businesses to participate in commercial space, and spoke excitedly about the Artemis program taking the first woman and person of colour to walk on the lunar surface.  She closed by encouraging us to treat each other like crew members, and looks forward to seeing the Australian flag on the moon.
Representing the New Zealand Space Agency, Deputy Head Andrew Johnson told us the international trends relevant to a new space nation.  He explained that being a smaller country has enabled swift operational policy updates, meaning that NZ is coming to the space industry in a flexible and non-conventional manner.  NZ is keen to advance their partnerships with Australia in space situational awareness and traffic management, conscious about the impacts of congestion in our night skies. 
Journalist Tony Shepherd conversed with NASA astronaut Shannon Walker about her experience being on the International Space Station (ISS).  Walker and her colleagues performed science in every field, sometimes 163 experiments at once, an example that space exploration results in many benefits to the progress of society and humanity.  She stressed how important it is to engage women in STEM fields and the possibilities that space can offer to do that.
Panel: Moving from Cubesats to larger satellites - building Australia's expertise and capability.
Relevant for the Astra Program 2021/22, Topic 2: What does space security and domain awareness look like for Australia?
In this session we heard from experts involved in satellite manufacturing to discuss Australia's current endeavours in the academic, government, and commercial sectors.  
Renae Sayers from The Space Science and Technology Centre at Curtin University, Western Australia, described the purpose of the Binar-1 satellite.  Binar-1 is the first of several missions over the next 18 months, each representing a progressing step in technology.  This CubeSat is designed with cost effectiveness in mind with more room for payloads that can be tested, increasing access to space for students and start-ups, and validating their efforts in orbit.  With ownership of IP, hands on STEM experience, and the end-to-end knowledge in the hands of students and teachers, these lessons will be carried forward and drive sovereignty in the Australian space sector.  On 29 August 2021 Binar-1 was launched into orbit aboard a SpaceX Dragon spacecraft from NASA's Kennedy Space Centre in Florida, U.S..
Co-founder and CEO of Fleet Space Technologies Flavia Tata Nardini, announced that over the next nine months Fleet Space Technologies facility in Adelaide will become the largest small satellite manufacturing  facility in the southern hemisphere.  With testing, end-to-end development, and building platforms, this will control the supply chain that became complicated with Covid and create a facility that can be utilised and shared with other companies.
Another issue the panelists highlighted is that the demand for satellites, in communication, security, and earth observation, requires a sustainable approach and international cooperation on space debris management.  This year, the Astra Program participants will discuss and explore the issue of Space Domain Awareness, and write recommendations that will potentially influence the Australian space industry.
Panel: Reimagining the social, environmental and economic opportunities enabled by earth observation technologies.
Relevant for the Astra Program 2021/22, Topic 1: How can Australia use satellite technologies for the benefit of the earth and environment?
In this panel, experts in earth observation technologies discussed the potential of this technology to solve complex problems, inform infrastructure, and build resilience to natural disasters.  
CEO of the Minderoo Foundation and Flood Resistance Initiative Adrian Turner, explained that globally we are experiencing a climate dilemma.  Data shows that we are spending more money on response and recovery than preparedness, and that Earth Observation is critical.  InSpace Mission Specialist Professor Paul Tregoning, identified the limits and challenges to implementing Earth Observation for natural disaster management, for example receiving the correct and quality spatial and temporal data, but suggests that constellations of small or nano satellites could be a cost effective solution. This will surely be a problem approached by our program participants as they tackle the question of satellites for the earth and environment
Mani Thiru, APJ Space Industry Development Leader, is optimistic about the innovation and creativity coming from start-ups across the world.  The Gravity challenge 03 is currently taking place (March-December 2021), which is "a global technology innovation program for corporates, entrepreneurs and universities to design and build solutions  to real industry, social and environmental problems using space data and capability".   Mani said, there are latent possibilities to solve climate and conservation challenges through a collective effort, and that "sovereignty and collaboration doesn't have to be mutually exclusive". 
If you are passionate and interested in how Earth Observation can benefit agriculture, disaster management, water resource management, urban planning, and climate change research, consider applying for the Astra Program as a participant.  In the program you will have the opportunity to engage in multidisciplinary discussions and weigh-in on the space industry's response to the future of Australia's natural and built environments. 
Panel: On-Earth and off-Earth remote operations, in the context of human exploration.
Relevant for the Astra Program 2021/22, Topic 3: How can we leverage Australia's unique capabilities for a  viable and successful industry?
Vice President of Technology and New Energy at Woodside Energy Jason Crusan, said that space and Earth applications inspire and advance each other.  Sarah Cannard, Industry Director of SmartSat CRC, explained that Australia has world leading capability for remote operations, in our ability mine reliably and at scale, both partly and fully autonomous.  Right now, we have an opportunity to take these strengths to the space industry and leverage this area of expertise.  
When Dr. Sue Keay asked Gavin Gillet, a Specialist in Integrated Operations from Rio Tinto, what the likelihood is of Rio Tinto mining off-planet in the next 20 years, he said it is likely to be further away.  On paper, the mining and space industries appear to be perfect partners, however there are different expectations with return on investment and the customer isn't there yet.  Most space missions are short and deliberate, whereas terrestrial mining is long-term.   But both need high speed communications, high quality power systems, GIS remote sensing, and an understanding of the environment live and daily, all things that can be advanced together.  The terrestrial mining industry can learn from space in sub-technologies that promote greener, more efficient, specific and small-scale operations, that can make smaller holes in the ground and reduce waste.
A social benefit to remote operations is that it provides greater accessibility, inclusion, and democratisation of responsibility, by bringing work to people that have physical or circumstantial restrictions to on-site work.  Jason said, in respect to safety outcomes, remote operations takes us out of the "dull, dirty, and dangerous jobs", and enables us to fully engage the entire workforce.  
Mining is just one area that Australia can lead in innovation.  Astra's participants will be challenged to further identify areas where Australia can boost commercialisation, while promoting positive public relations and building an industry in line with Environmental and Social Governance movements.
The Astra Program is a free, online, intensive summer program.
The Astra Program will be recruiting participants soon, and will give tertiary students and young professionals from all disciplines, backgrounds, and space knowledge, an opportunity to learn and contribute to the future of Australia's space industry.
Read more about this year's topics https://astra.ayaa.com.au/the-program-2021-22/
Keep an eye out on our socials for when applications open https://linktr.ee/astraprogram 
All are welcome.